Find and use high quality spare parts for trenchers.
Our trenchers are highly professional and excellently manufactured. Nevertheless, even they are not protected against the ravages of time and the wear and tear that comes with it. Occasionally, it is necessary to replace a worn or damaged component of a trencher with spare parts. Here it is important not to choose just any parts, but to pay attention to quality and compatibility. We offer a wide range of reliable trencher components that will fit your individual model.
More function for your machine.
Whether tractor, wheeled loader or our Grabenmeister: We offer useful and practical accessories to you, in order to equip your machines optionally for each employment.
Filling judge: In various dimensions. According to standard with hydraulically adjustable axle and adjustable filling height. Optionally with auger, compression wheel and hydraulic opening mechanism. Standard capacity: approx. 2m³.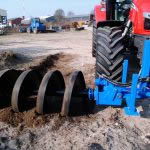 Filling snails: For wheeled loaders with hydraulic drive and tractors with three point admission and PTO drive. By hydraulic cylinders vertically and horizontal controllable, as printing and course snail available.
Earth backfilling blades: In different sizes and remarks, generally from high-quality steel manufactured. When desired individually for your need adapted. Backfilling blades are vertically and horizontal controllable by hydraulic cylinders.
Moving accessories: In order to simplify and save through it time the transfer from drainage, lines and cables to, we offer to you practical accessories, with which you settle also the moving work in a processing step. (Hasp, moving role, moving pit etc.)
Further accessories on request.

Still forever.
Of course we manufacture our machines, devices, spare parts and the accessories with highest precision as well as from high-quality materials. A robust execution with long-lived quality guarantees you.
You and we know nevertheless that the employment devices are subject to high loads and requirements; particularly in the earthwork. Completely without wear and wear it does not go thus.
In order to regard down-times as small as possible as you, we have constantly the most usual spare parts in stock. We give those you fast and reliably, or install you also gladly. They receive spare parts with us from the drive wheel to the gear wheel, for our ditch masters as well as for many other usual manufacturers.
And if you need an "exotic part", we will certainly find a solution also for that!
Highest precision for drainage. Laserbased building of drainage is the most efficient method, in order to determine the depths adjustment when moving perfectly. Thus damages at more deeply moved lines and pipes can be prevented among other things and to be reduced later filling to a minimum of expenditure. That saves annoyance, time and money, with which the investment amortizes at short notice into a laser plant. In order to ensure the necessary flexibility, the lasers at many by us manufactured trenchers are applicable and with few handles installed, whereby the data input becomes uncomplicated and thus fast.
Chain type
Alligator chain carbite bits
Cutter chain
Mixed chain (Bits and tools)
Tyres:
Tyres for sward lawn
Lawn
Golf
Communal
Tyres farmer (Accessories)
Conveyor for charging
4.000mm hydraulically
3.000mm hydraulically
Other
Edge cleaner a. support (Accessories)
Dual tyres (Accessories)
Equipment with cable (Accessories)
Socket for pipes (Accessories)
Pipe-Laying-Systems (Accessories)
Drain-equipment 70mm (Accessories)
Levelling blade (Accessories)
Hasp for drained pipes (Accessories)
Cabin (Heating/Air conditioning) (Accessories)
Filling judge (Accessories)
Backfilling snail (Accessories)