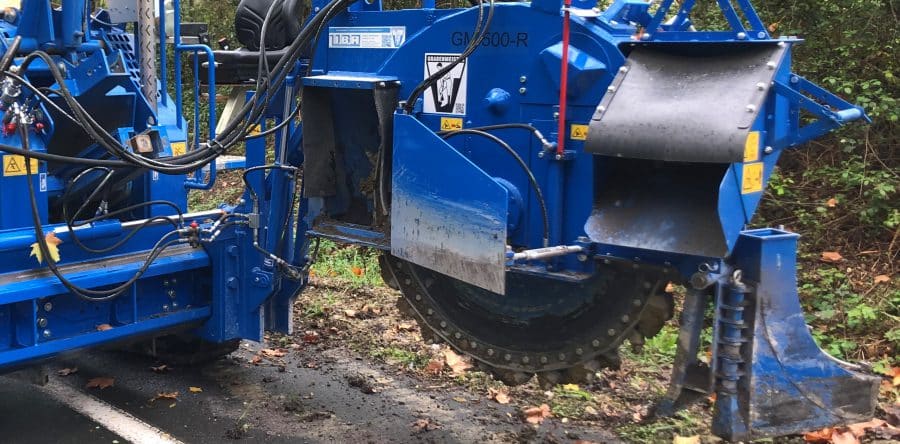 Micro trenching with the trencher
Over the years, various methods for cable laying have become established in the construction industry, but not all of them are as effective as one might assume at first glance. In the following, we would like to introduce you to a method that is becoming increasingly popular due to its technical progress and is already being used on many construction sites: micro trenching.
Micro trenching is all about cutting the trench just right so that the cable to be laid can be inserted well into the trench. Sounds pretty simple, and it is! Yet it is hardly known on many construction sites. The idea behind this technique is to keep both the trench and the associated excavation as small as possible. This is achieved by using narrow milling chains (usually 5-8 mm wide).
But why is this actually done? The reason is the many advantages that this technique brings. For one thing, wear plays a role. A narrower chain naturally has a much smaller friction surface, which minimises wear. Compared to a conventional trencher with a normal trenching chain, the costs at the end of the day are much lower if you opt for micro trenching, as less material is used but the same is achieved. Another big factor is the amount of time as well as labour required with this method. The first time saving starts with the milling of the trench. Due to the narrower size, the trench is also pulled faster than with conventional milling. Furthermore, the excavated material is much smaller when micro trenching, which is why it can firstly be transported back into the trench more quickly after the cable has been laid, and secondly, fewer employees are needed to pour this excavated material back into the trench. This again saves time and employees who can then be deployed elsewhere. This makes the entire cable laying process much more effective and faster.
Micro Trenching with Lingener Baumaschinen
Of course, we also offer you the option of equipping your machine with the right conditions for micro trenching. Furthermore, we offer some extras to make your work on a construction site even easier and faster.
For example, our machines can be delivered with a so-called laying shaft. This installation shaft allows cables or empty pipes to be inserted into the trench directly behind the milling beam. This simplifies the laying of such pipes considerably, as no one has to insert them by hand, but they are inserted automatically. A cable drum mounted on the machine also automatically unrolls the pipe and inserts it over the laying shaft, so that no employee has to take over this task.
You can also add a backfill hopper to your order. This is clamped behind the machine and filled. While the machine cuts the trench and lays the cable, the trench is also automatically compacted again after laying, so there is almost no work for you.
Working with Lingener Baumaschinen
As you can see, micro trenching has a number of advantages that enable efficient and fast work. We would be happy to convince you of the Micro Trenching technology on site. Please feel free to contact us or send us an email. And if you do not want to opt for a self-propelled machine, we are also happy to offer you our attachments. These can be conveniently attached to excavators and tractors and do the same job. We would also be happy to show you these machines at an appointment.
We hope we have been able to interest you a little in micro trenching in this report and would like to welcome you as a customer of Lingener Baumaschinen and tackle the next projects with you.